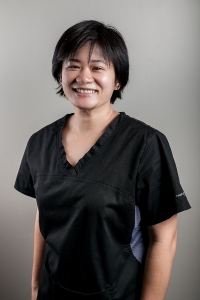 Registered Dental Hygienist, RDH
Sidney is a Registered Dental Hygienist of Ontario who graduated from Oxford College of Arts, Business, and Technology in 2007. Sidney joined Unionville Gate Family Dentists as a Registered Dental Hygienist in September of 2007.
 
Sidney loves all aspects of dental hygiene. In 2008, she completed additional schooling in orthodontics at Schulich School of Medicine & Dentistry at the University of Western Ontario. She currently performs hygiene services and orthodontic duties at UGFD.
 
Sidney is registered and licensed to practice with the College of Dental Hygienists of Ontario (CDHO) and the Ontario Dental Hygienists Association (ODHA) for 8 years. Sidney has also successfully completed the American National Board Dental Hygiene Examination in 2007.
Sidney considers work as fun and fulfilling. She is very proactive with continuing education, and attends courses that encompass all aspects of dentistry.
Sidney is fluent in English, Cantonese, Mandarin, and Hakka dialect.
Sidney lives in Unionville, and often rides her bicycle to work. In her free time, she enjoys spending time with friends and family, and maintaining an active lifestyle on her bicycle, and a little enlightment through simple yoga.
Registered Dental Hygienist, RDH